Pictures are FINALLY up! [MEL's place, 3 weeks ago, thursday]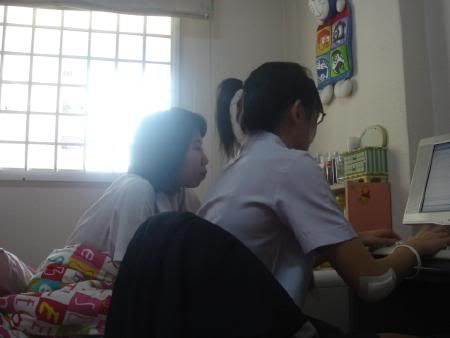 I was hardworking, trying to enter SRJC website to DL GC to do math, still doesn't work.
Gave up, join the 2 cam-whore behind us, having a hell lot of fun. Haha.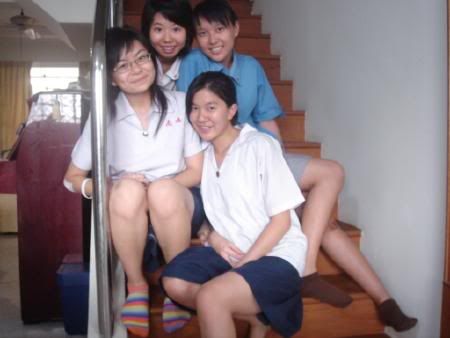 We took this using self-timer, my legs look fat! [and i'm in my specs!] GRR.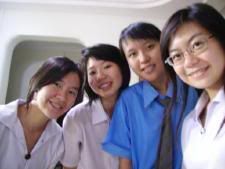 See, we took LOADS of pictures. 4 cameras.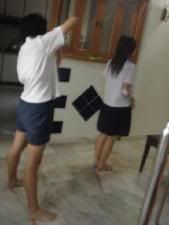 This is interesting, because J-wen took mel's back, whose taking my back! Haha. I want to see how I look from behind. Fat not, long hair not, legs huge not, attractive not etc. Hehe.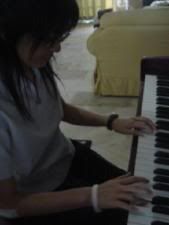 I know I look professional here, but in real life I sucks, I'm not at all musically inclined ok, I can't read musical notes.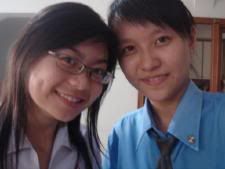 Darling J-wen and I.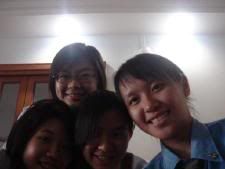 In front of mel's piano. (She's a freaking 8th grader!)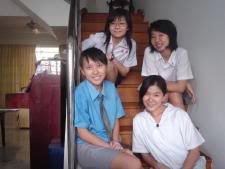 Still on the stairs having lots of fun.....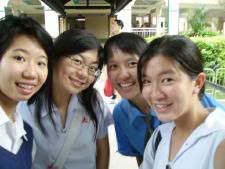 Even waiting for bus we also won't miss the opportunity. (weird stares from public)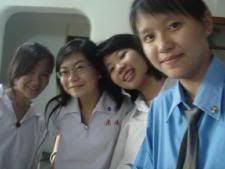 4 out of 6 good OG friends!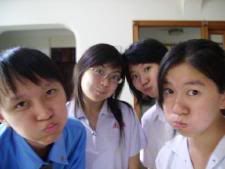 I think it's J-wen who suggested we all act spastic and do the puffy face. Hehe.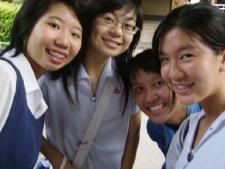 I know I look tall here, but in fact, everyone knows I'm SO short, 153cm! x(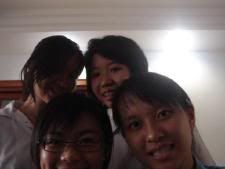 Ok, tell me, where is half my head?!!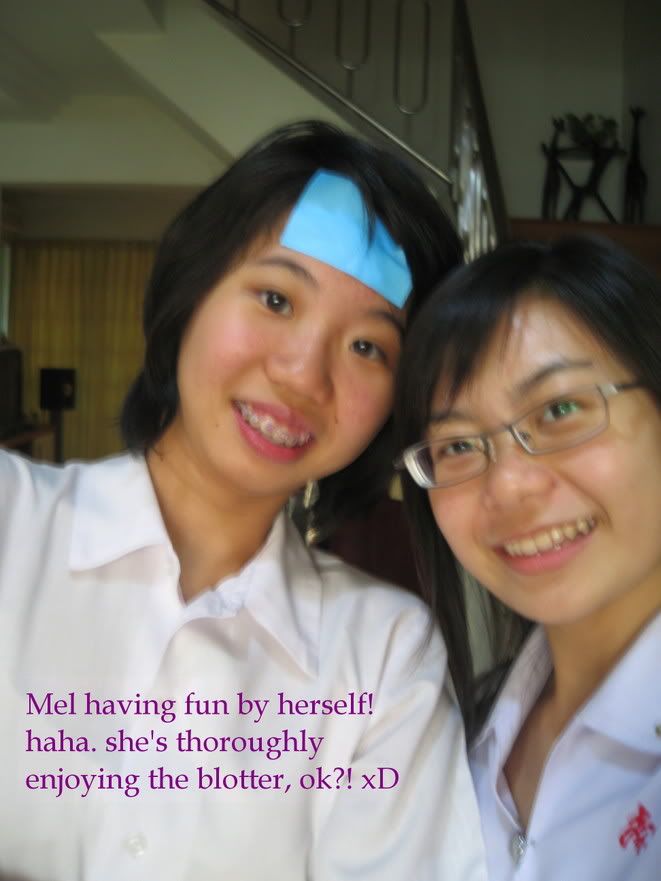 Hahahahahaa! I can do my own photo, without anybody stealing it! But it requires lots of time, so I may consider just let you ppl take. Haha.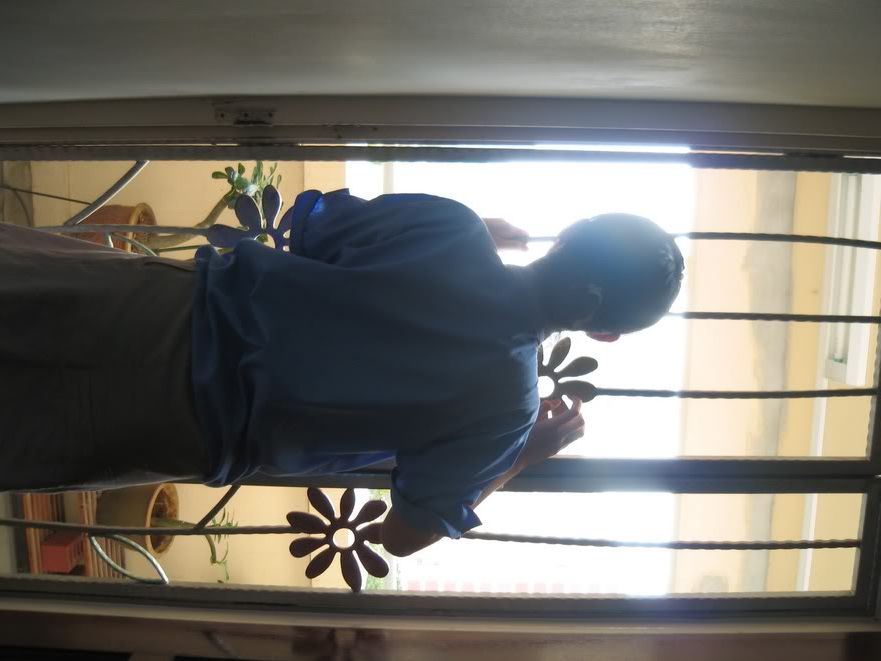 I don't know what our miss J-wen was thinking, do a pose like that...Haha.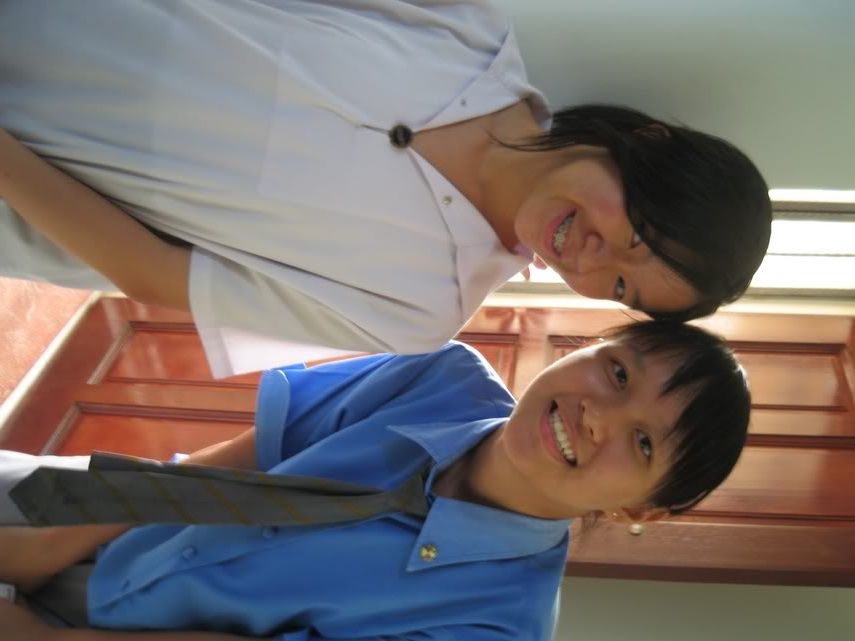 Oh my goodness, they take non-stop. Anyway, J-wen is a guy magnet ok, all the guys in the world fall for her! Haha, she's so gonna kill me when she read this.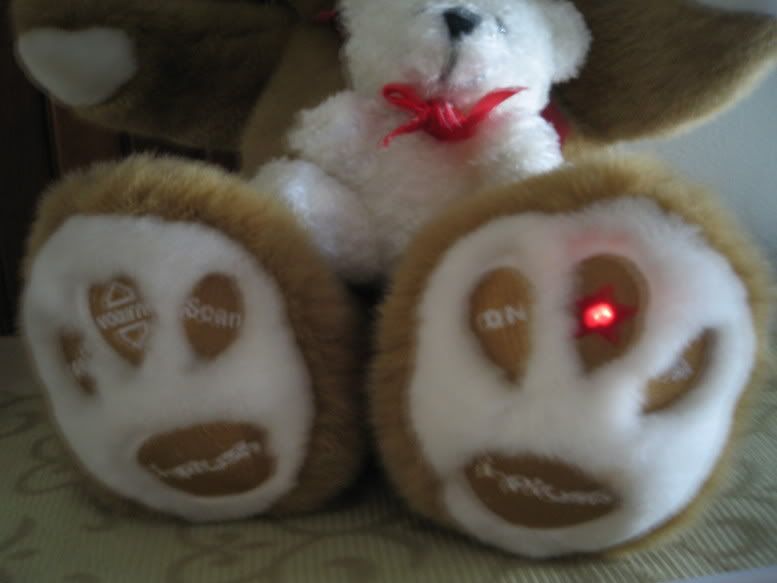 Do you know this bear is a radio in disguise? I press the foot ofthe bear, then tune to 98.7 fm! Haha, interesting.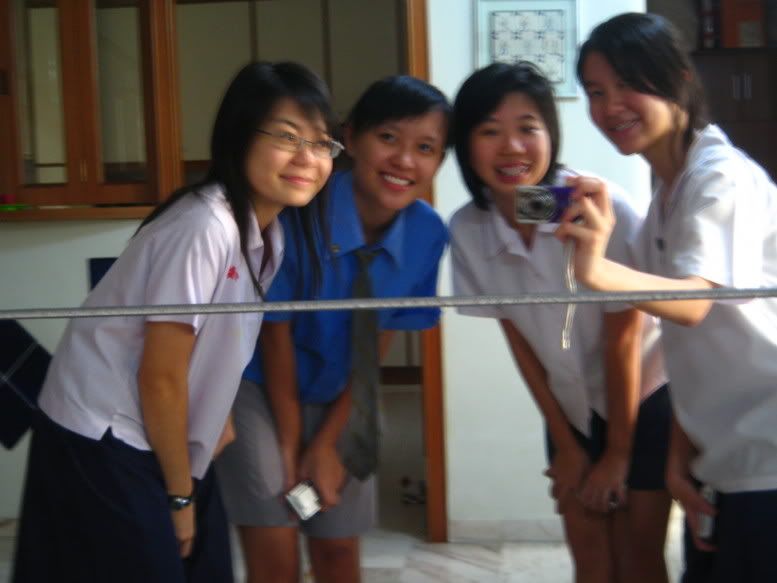 Mel's walls is the mirror, having fun.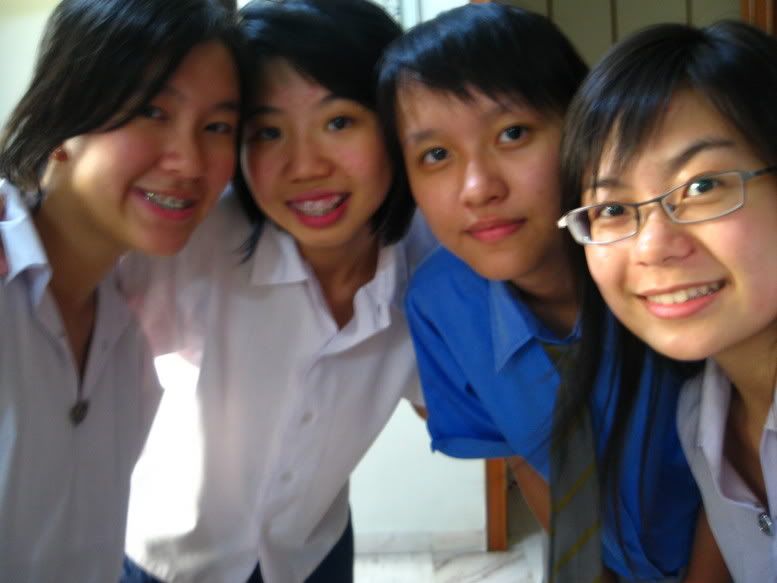 We made use of the reflection in the mirror...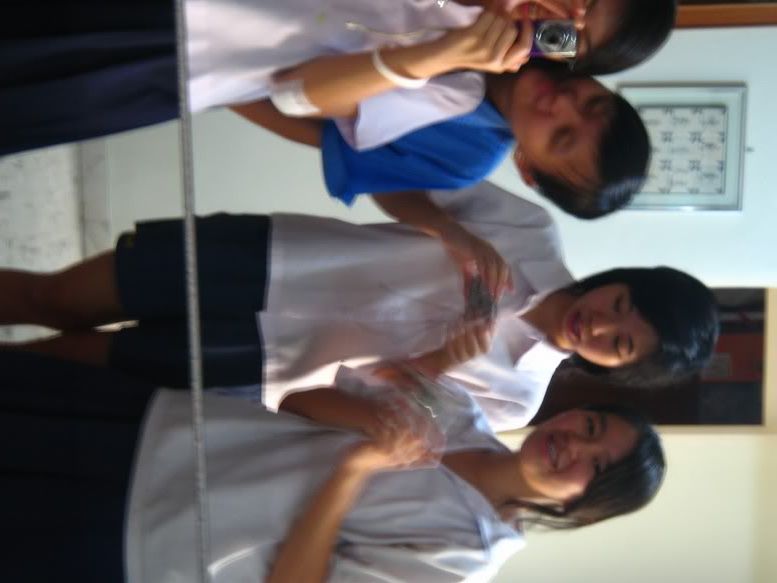 J-wen tried to kiss me or something, pervert ah!!!!!!!!!!!! Haha.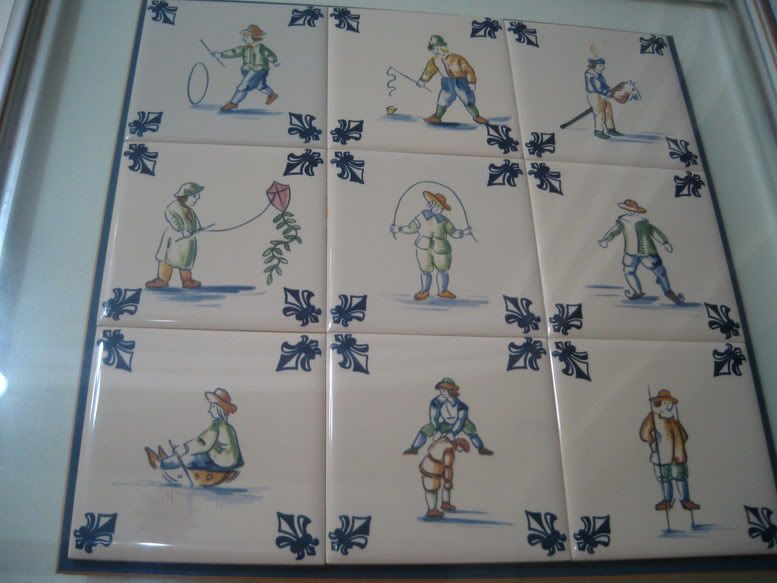 I found this, and find it very nice, I like.
I don't know why my hand put there, natural reaction I guess. Oh well.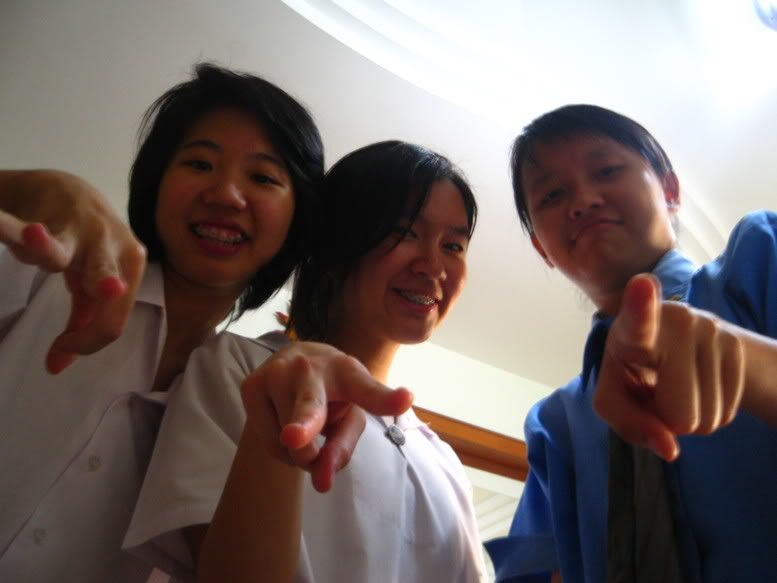 They did a 1, 2 , 3 for me while I squatted and took this.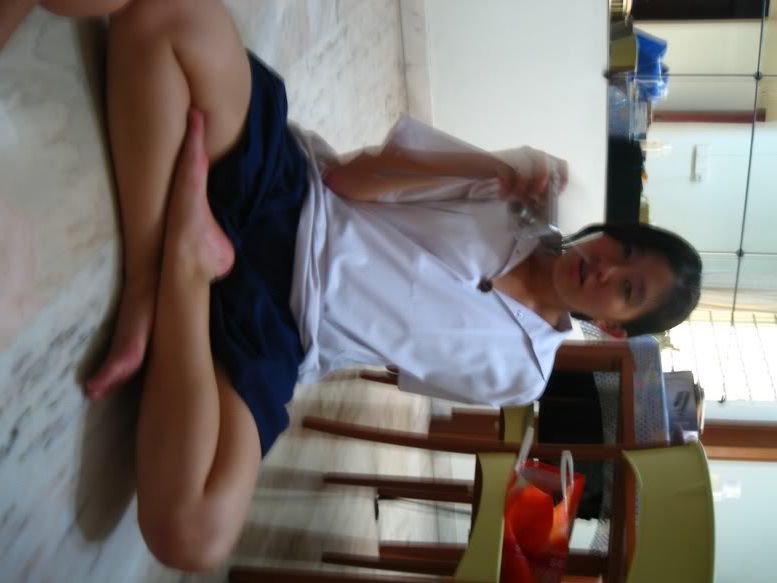 Our sweet Lydia!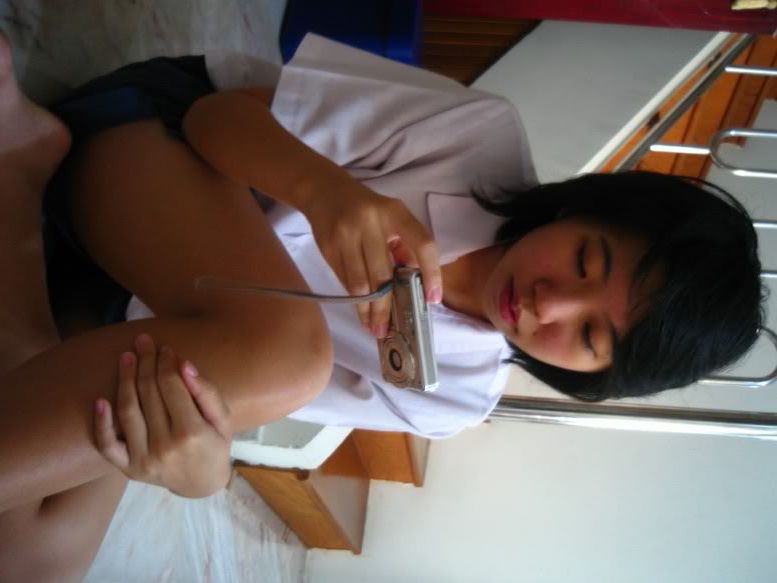 Our blur mel!
The injured J-wen.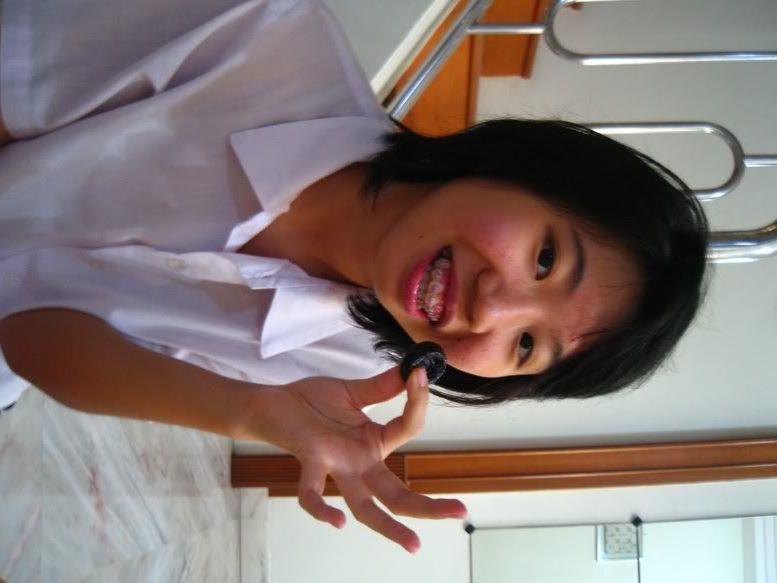 Mel enjoying her piece of prune.
In school the next day.[I think].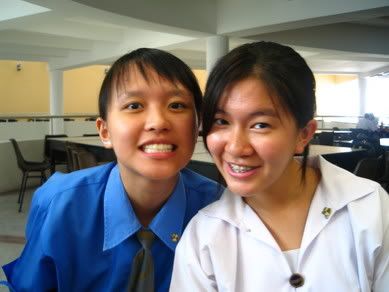 Yes, the 2 cam-whore queens!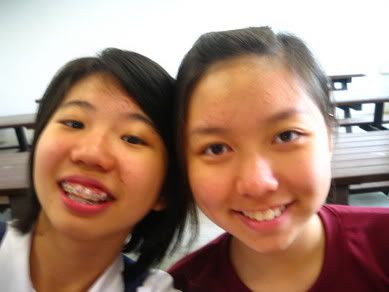 The very RARE photo of Pei Si. We all haven't seen her for WEEKS! Almost a month already, PS, where are you?!!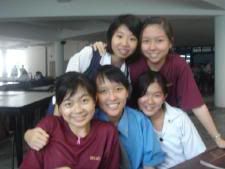 Outside the library, with SKY aka Kai Yuan, sorry to make you wait so long for this photo!
So, this is part of the JC life, and today went to have dessert lunch with them! FINALLY! After like 3 weeks!
All I want to say that the best thing that had happened in SR to me was knowing these 5 great people. I'm so sad that we're all going different ways and not hanging out together often anymore! The more I say, the more I feel like crying. x( But will never forget you guys, you guys gave me 1 of the best time of my life. x)
And Hafiz too! He even mailed us each an email to wish us luck for the results! xD