Yesterday had lunch with class at Alumni, where I discussed my relationship woes with Ah Gong and it helped. Thanks Ah Gong. :)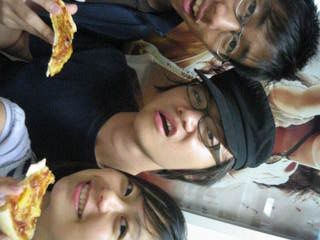 Later we had Radio Heatwave welcome party, and learning of the console, and scheduling and instructions given...the admin stuff. Had free canandian pizza though, heh.
***************
FMS was giving out free apples today, in lieu of the Apple care or something. Babyface ate mine for me coz' it's too sour. :S
Gracey looks like a rock chick. I wore my lashes today. Hoho.
Met Kimmo and a few of them at underpass and hung around till 4pm.
I love to play with the black pearls and make myself look like I have decayaed teeth. Hur hur.
For the grand opening of Cheers, my new cca, D3, had a performance. Look at me man! Haha.
EMO-ish. New kind of style which I've never tried before. I received a handful of compliments today. :) But I don't think my behaviour can pull off this look. :X
I met Babyface as he walked out of the school. So cute, innit?
Today we talked alot, amazingly. He was so chatty all the way that I got abit sleepy due to my energy drainage.
But eventually everything turns out pretty well, travelling 3 places to catch Bridge to Terabithia.
I didn't really notice his hair was black again, I think I like it. EMO.
If you're not into friendships and sibling bondage, abrupt and unexpected sad endings, then you'll probably not enjoy Terabithia. I didn't enjoy it THAT much because of the flow of the movie didn't put me right. Although I dropped 8 tears. Anna Sophia Robb did a fantastic job though, I'll definitely catch more of her in the future. And seriously, fantasy? Erm, I think the effects were rather fake and there isn't much fantasy at all! This is one smart trailer tactic to lure us into watching man. :S
-------------------------
I stumbled upon Taino's flag and identity (golden frog) somewhere.
The flag's cool, but I really abhore the frog? *shivers*
-------------------------
For Dance photos, I think I'm just going to show some here!
I didn't know Joanne's hair could do this. She should do this more often.
Starting pose.
Dancing.
Ending pose.
We were told and commented it was the worst performance D3 had ever put up, extremely unco-ordinated and they had kicked 5 dancers out for the following day's performance for good. Gosh, HARSH.
The above photos are for yesterday's Hearts at NP.
*****************
I like how my hair has volume. Good hair day with natural waves! :P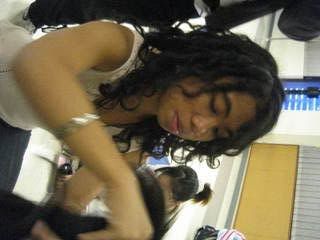 Noreen the nicest dance instructor! She did my hair too. She's chirpy and lovely!
Rebecca (from NRA too), another Grace (MCM year 1!), me! New friends from D3. :)
Danniu (president) doing the hair for Aaron (guy who likes to shake it). :) <3s.
I like looking at them at work.
Standing tall.
Doesn't he look abit Cheena? I keep having this feeling. He's a good liar! But he's sweet and funny. Haha.
Once in 2 days I see her in make-up. Heh.
In the studio, ready to set off.
Exuding confidence.
Today's performance was much better than yesterday's. Although Hon missed it, AGAIN. Sigh. Oh well. So did Eileen, Kimmo, Ah Gong, Gracey and people whom I cared. :X
------------------------
There's a new album and I've linked people up too, check back! I've changed song. :)
<3, an entire day dedicated to the both of us. Tomorrow.