Sorry, have been really busy lately. Even though I have meeting at 8.30am in the morning tomorrow, I'm trying to upload the photos into my albums. Still, I have trouble uploading it. My com is getting laggy.
I'm in desperate on time. I have loads of reading to do but I don't have any extra. :(
1 MAY-
SPIDERMAN 3 rocks by the way. YOU CANNOT POSSIBLY MISS IT.
Now I have a fetish for Harry Osborn. He's uber cute and gentleman ok!
This time round the effects were better, music and visual wise more satisfying.
I must say, the humour was good. At least not lame. There were bits I was kicking in my couple seat. :)
Of course, I watched on the release day. :P YES, PLEASE. BE ENVIOUS. If you've been trying to queue for hours to book the tickets only to know that they ran out of tickets. Be jealous if you've tried online booking weeks earlier. Be jealous if you can only watch it in the front row.
I enjoyed mine with Honey at The Grand Cathay second row from the back, couple seats, well cushioned seats in house. :) Love love. Heh. It's rare I boast like that, please allow me. :P
Although Victor said the plots were twisted and there were many changes, I still cried nevertheless. Well, AS ALWAYS.
Sis had cut her second birthday cake. Lucky girl, every year got Jian Wei to order Swensen's ice cream cake and throw surprise parties. :S Photos on the way.
-----------------------
30 APRIL -
Back to school for meeting.
This is Li Bing. I really adore her fashion sense. She got cheap deals from Topshop!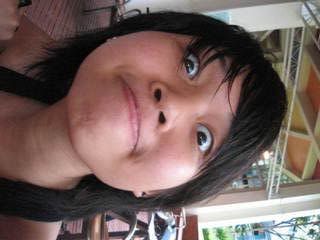 Gracey. This woman is well-endowed I tell you. Sorry I can't make it to 200 pounds beauty with you! Sorry! Next time I ask you ok!
At night, Graffiti finally have a outing. I can only promise you this:
AND MUCH MORE!
---------------------
28 APRIL-
The Qingdao BBQ cum stayover. I know I haven't updated as mentioned. :( I'm pretty disappointed with myself too.
I tried a new style of dressing. With a rocker-wannabe.
----------------------
Oh man, seriously, not being able to narate my stories of photos, I'm feeling uneasy. It's as if my photos are screaming: attend to me! And! You will find predators such as Ying always on the lookout only for photos with her inside. =..=
Just to let the people know: I'm flattered if you enjoy your visit here. Heh. Victor told me. I'm really really HAPPY. Whee.