PENSIEVE.
Hopeless. I know. It's been like 2 weeks since I last blogged.
I have been bogged down by many, many things.
EXCUSE!
So I heard. Many people have other responsibilities as well. Just perhaps I'm bad at time management, and other 100 things.
-----------------------------
I just have to spend time and put parts of my memory into this blog so when I look back years later. This would be my virtual scrapbook. And hopefully Blogger doesn't shut down. Or else alot of people will KPKB. (Pardon me, no idea what have gone into me lately, I speak almost all the vulgarities and hokkien and Chinese. )
From my last entry on the list of things that I need to do, I haven't completed much actually. My website's STILL not done, and my skin is equally bad, or worse. Sleep is still a sinful pleasure till date.
However, pretty results were delievered. Ok, I am very proud of one. Allow me to boast? (Or just skip reading this part) My Radio Conty Test was awarded a A+! :) Something that makes me keep on fighting.
And of course the only other reason now seemed to be growing dimmmer. :(
------------------------------
Right, movies wise, I have caught Pirates 3 and tomorrow, Shrek 3.
Maybe because I was being too cocky about the Spiderman 3 tickets, somehow I got punished that the tickets for Pirates on its actual day had been sold out. So I caught the midnight movie on 25th. The entire night started and ended bad anyway.
And if what Benedict says is true, I'm going to catch Pirates 3 again with him. Quoting him, "I'll throw in the popcorn as well." Which means, FOC movie + popcorn.
I don't think I need to review Pirates here since basically MAJORITY of the world will watch it. With the exception of Joanne though.
Before Pirates, it was a meal of MOS Burger and Ben and Jerry's. Finally moving away from omelette! Gosh!
It suddenly struck me that pictures can be so deceiving, unless you know how to examine the emotions behind each picture.
Each of them tell a different story, told through expressions ...
-----------------------------
Here's what you missed out:
I wanted to ask readers (erm, if there's any) that is this pair of white skinnies too tight? Because I'm sick of waiting the seller who promised to change the skinnies to reply. And as of now, I'm a pissed buyer. SHE (thy-dowager.blogspot.com) is NOT RESPONSIBLE at all. GRRR. Ask Eileen if you disagree with me.
If not, I'm thinking either selling it again or just squeeze into it. Sigh.
That's just coz' my eyes are too tired to even carry my hard lens. :(
Yeap, you didn't see it wrongly. It's Jean Danker from Class 95FM. Last Tuesday she was our guest lecture and luckily for me, I made it just in time for her 'talk'. I was late so obviously I sat in the first row with Wei Long.
I realised I haven't been talking to Kimberly for a very long time. Nor take photos. That's why it feels different?
I smell a trend is brewing. It's the Shrek ears fad. It's hitting Singapore...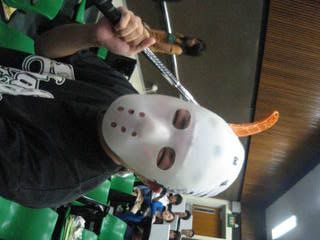 Selwyn acting all weird.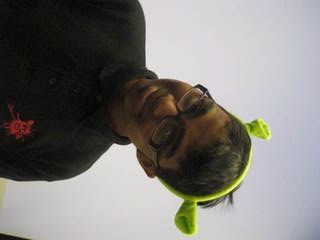 Introducing the very friendly Serage (spelling?)
Wendy made us all wear Shrek ears. i was pretty shocked Jean did it too. My camwhore darlings too. Haha. As you should have realised since Jenson's appearance. =.="
------------------------------
The following day, this is what I wore:
I thought the second week of Radio Heatwave went pretty well for me:
This is my partner,Chrystal.
Taken insde the studio itself. Love the sign.
That night Vic came over to school and I did my website till 8pm+ before he started grumbling and I brought him to Al-ameen. Believe it or not, I didn't purposely eat a smiley face out. It was in the midst of cutting and chewing that I found a smiley face. Creepy!
--------------------------
On Thurs, the 2 Newswriting lecturers organised a field trp for all of us and we had to attend. Arts Festival preview event at the Padang. The journey there was one hell of a ride. In our old clique + few other old classmates, we sang out loud in bus and joked and do many funny things. Just high.
Yes, so high that Eileen, Jo and I went to sit right in front of the performers and as you can see, the real thing is just right above us. Initially one the 3 of us sat in the middle of stage. But we couldn't care less. Heh.
Frankly, I constantly found myself looking around, searching for someone ...
This opening act has received alot of attention and I see the advertisement almost everywhere! Personally, I don't know what the performance is about even when I'm a performer myself. The best part was the fireworks. This time round even closer than the NDP one. How do I know? I have to blink at every burst of the flames. And my eyes hurt a little at some point of time.
Nolstagic, ex classmates and Lok Mun and Candy (non T107/102) joined us to Starbucks, where we hang around till 11pm. Kristle was sulky about her relationship problems but finally it's been solved. :)
But I'm still stuck. :(
-----------------------------
On Friday morning, I was the only Year 2 that arrived first for the 93.8 Live Talkshow, I almost thought I went to the wrong place. Startled, I sat in one corner, until I saw Hong Jun wobbled in with his bermudas and flip flops.
The talkshow was about Singapore having a Pop Culture and we have 5 celeb panelists. Here they are:
Our senior cum Singapore Idol participant Daphne Khoo.
The editor of FHM magazine, (insert name!)
Editor of LIME magazine, Stella.
Radio DJ of 93.8FM, (insert name!), something like Therma-Keesha? (sorry mental block at night.)
And of course the One that girls go ga-ga over, likes of Wendy and Starshea, it's Mark Richmond, Programme Director of 98.7FM. Throughout the show, I must say without him, it would be pretty dull. He's funny. Beatrice Chia, you lucky woman! And carrying his baby!
--------------------
For PR, we had a fake Press Conference which was uber fun.
5 of them are fake CEO and PRO etc, and we were reporters. I was assigned reporter from Capital 95.8FM, which is of course, to my benefit. McBurger was the company's name. Sad for us, the PR teacher is leaving us this tomorrow, 1 June. :(
My week didn't just end there!
But I'm going to stop for now.
******
Sports Camp DND Photos here:
http://www.imagestation.com/album/pictures.html?id=2091925748 (not put up at navbar yet!)
I'm hooked to something that doesn't require money, but time.
Guess what?