7-Eleven
is your best bet whenever you need to get something in the middle of the night!
Just the other day I met up with my buddies at NEX for a movie and just as we came out of the theatre, there's
7-Eleven
!
I don't even have to put in any effort to look for an outlet because it's so conveniently located! The third floor 7-Eleven is the smaller outlet, and just a few storeys down at the basement, there's a bigger one. :D
I passed my camera to BFF 1 and henceforth began a fun journey in 7-Eleven. It's unbelievable we can have so much fun even within the small outlet.
It began with me given too many options and not knowing which way to enter.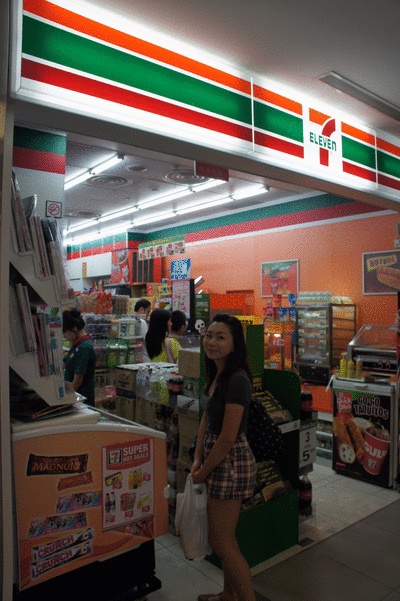 Left?
Aiya
right.
Aiya
left side got drinks!! Just
GO IN
, it doesn't matter!!!
The awesome part about 7-Eleven is that there's ALWAYS some promotions, contests and even lucky draw going on at 7-Eleven. Slurpee was $1/ cup that day, check out the family behind me queuing up to get their Slurpee fix!
I was wondering what to buy...
Looking high, looking low, looking for all the good
lobangs
~
... and in the meantime, BFF 1 caught BFF 2 "hanging around" the magazine section. What could he be looking for? Could it be the attractive cover page of... FHM?
After much deliberation, he reaches out ...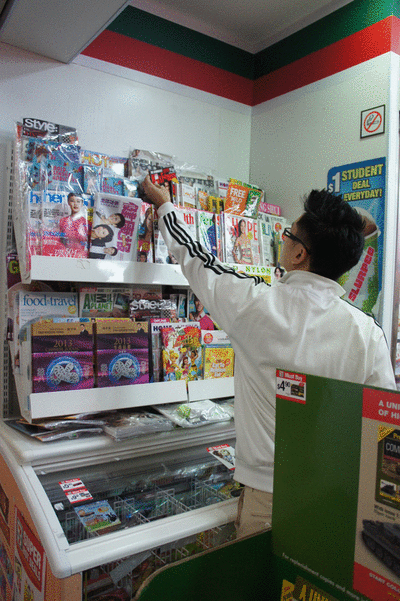 ... and starts flipping through the magazine there (eh not recommended)! -___- LOL Y MY FRIEND LIDDAT?
But hahaha, no lah, it was the Men's Fitness magazine (UK version sold in 7-Eleven!)
Earlier this month, I'd already gotten my bridal magazine so I didn't get one here.
BFF 1 shifted his focus back to me when I shouted, "EH COME OVER! GOT OFFER HERE!"
See!
See!
See!
BFF 2 still wanna bluff me using the magazine.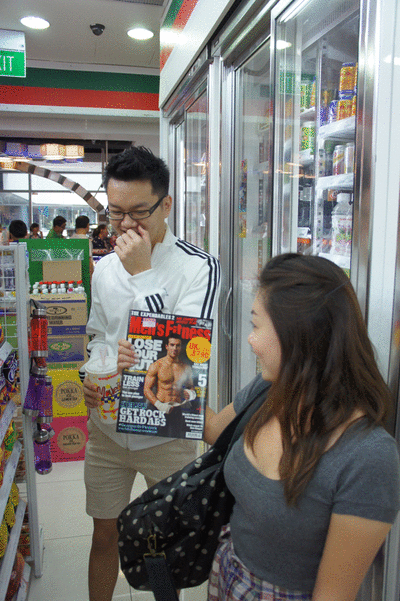 It's funny because he used to be a scrawny, awkward kid in class, always being bullied. Yet he's now really into exercising and working out to build bulk. He has also become much more sociable over the years (decade! Lol).
Anyway, I decided to get chips since I wanted a tea-time snack. Fattening but hey, I don't eat that every day what!
Picked my favourite chips!
Moving on to get some drinks, and was wondering what to get...
Then I spotted my favourite Allswell drinks was having a 2 for $3 promotion. YESSSS.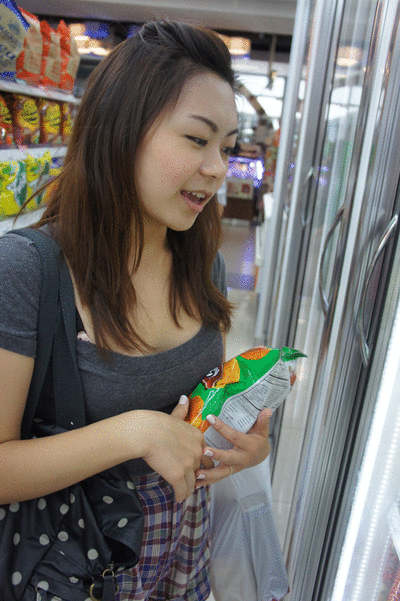 Quickly grab
liao
.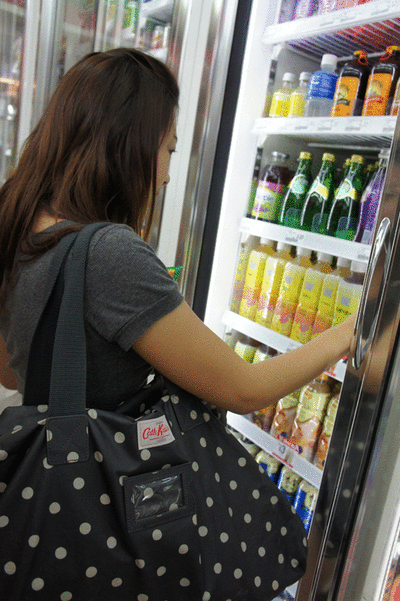 Ohhh and something else caught my eye as I walked over to the cashier.
Mini Lego figures and Hello Kitty notepad! I had no idea 7-Eleven bring in these cute novelty items too!
I laid my stuff on the cashier counter and realised that my bag was too heavy already, so I decided to put back the drinks (Sorry!).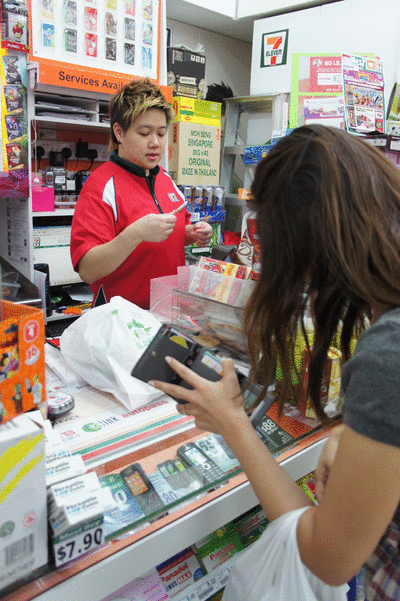 Making payment, and
kanchiong
auntie is
kanchiong
. I can so foresee myself doing a lot more of shopping at 7-Eleven in the wee hours when I feel hungry, thirsty, or when I run out of toothpaste. I'm certain that somewhere near my new place there WILL be a 7-Eleven.
And as I mentioned earlier, 7-Eleven hold contest too and the current one involves sharing my
favourite country if I were to win the 7-Eleven Leading Brands Contest.
Have you guessed it yet from my use of anime expressions in some of the photo edits?
Here's another hint from the chips I bought:
It's
JAPAN
!
The last time I went to Japan I only get to go Hokkaido, and spent the last day in Tokyo. I would love to go back there with my fiance and have a good time (him looking at Jap girls and me soaking up in everything kawaii).
There's the
Hello Kitty Theme Park
(or is it the
Sanrio Puroland
?),
One Piece Restaurant
(sigh, I know it's closed now but I can always go look for other pop-up stores!),
Cat Cafe
, not to forget
Tokyo Disneyland + Disneysea
!
Kitty Land
One Piece Restaurant
Cat Cafe
Also, if I really get to go Japan, I will bug Alien to buy me my favourite Japanese fashion brand -
Snidel
!
So here's my proof of purchase:
:) COME COME LET ME GO JAPAN! Just like how 7-Eleven is the leading convenience store in Singapore and Calbee the leading brand in potato chips, let me be the leading one who can win the contest!
/okendofshamelessplug